Latest news
Australia's New High Commissioner to India
High Commissioner Philip Green presented his credentials as Australia's 22nd High Commissioner to the President of India, Her Excellency Smt. Droupadi Murmu ji. He opened his conversation with Her Excellency with a greeting in one of Australia's Indigenous languages - underlining his and Australian Government's respect for First Nations people, in Australia and around the world.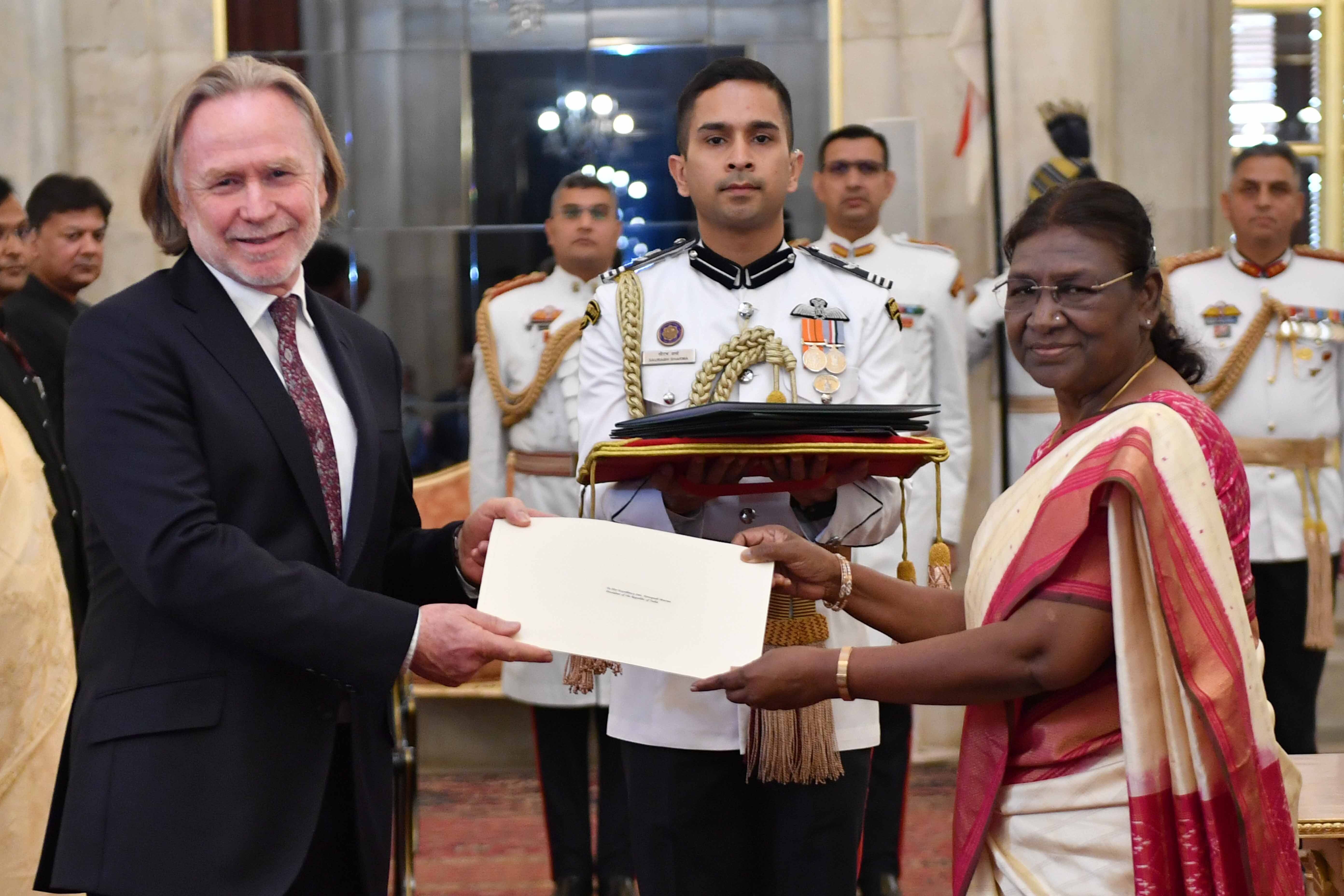 High Commissioner Philip Green OAM presenting his credentials to H.E. Smt. Droupadi Murmu ji
Passport and notarial services
Latest announcements
Passport fees increases every year on 1 January. Effective from 1 January 2024, the following fees will apply:
• 10-year passport for people 16 years and over - $346.00
• 5-year passport for people under 16 years or 75 years and over - $175.00
• Emergency and replacement passports - $217.00
• Priority processing fee - $252.00
• Overseas surcharge for adult and senior applicants - $155.00
• Overseas surcharge for child applicants - $76.00
Medibank Private/ahm and other recent data breaches – advice for foreign passport holders
Medibank Private/ahm have advised the Australian Passport Office (APO) that no Australian Travel Document information was compromised in this breach.
Foreign passports for international students were compromised through this cyberattack. Medibank Private/ahm are contacting impacted customers directly.
If Medibank Private/ahm have advised you that your foreign passport information was compromised, you should contact the government that issued the passport for advice on what to do. This is also the case for all data breaches that impact foreign passport holders, including the recent breaches at Optus and Medlab.
More information:
Medibank/ahm impacted customers:
Call Medibank on 134 148 (within Australia) or +61 3 9862 1095 (International)
Contact Medibank's 24/7 Student Health and Support line (Medibank international students call 1800 887 283 and ahm international students call 1800 006 745)
Visit Medibank Cyber Event Updates and Support page medibank.com.au/cybersecurity
See the Australian Cyber Security Centre's Medibank Private alert.
Optus impacted customers:
Contact Optus customer service directly on 133 937 (within Australia), or +612 8082 5678 (International), or go to their Passport Information (link is external) webpage.
Go to our Frequently Asked Questions on the Optus data breach and passport information
See the Australian Cyber Security Centre's Optus data breach(link is external) alert.
Medlab impacted customers:
Contact Medlab customer service directly on +61 1800 433 980, or go to their data breach web page (link is external).
OECD Guidelines for Multinational Enterprises
The Australian Government encourages Australian enterprises operating overseas and multinational enterprises operating in Australia to observe the OECD Guidelines for Multinational Enterprises. The Guidelines provide voluntary principles and standards for responsible business conduct in a variety of areas, including:
human rights;
employment and industrial relations;
environment;
combating bribery, bribe solicitation and extortion;
consumer interests;
science and technology;
competition; and
taxation.
The Australian National Contact Point (AusNCP) promotes the use of the OECD Guidelines and contributes to the resolution of issues relating to their implementation, including facilitating access to conciliation services.
News and media
Latest press coverage
Latest speeches by the High Commissioner