Australian Passports
In this section:
Appointment Bookings
Appointment bookings are required for passport applications and notarial services. Services cannot be provided without a prior appointment. For booking an appointment, click the 'Book Now' button below

Booking Policy
Applicants should appear at the High Commission's public entrance for security screening 10 minutes before the appointment time. You will be admitted to the High Commission no earlier than 15 minutes before your appointment time and your appointment may be forfeited if you arrive late.
We request that you do not book more than one appointment. Refer to your notification email if you need to amend or cancel your appointment. Clients who book multiple appointments may have their appointments cancelled.
Appointments are available for the following services:
Passport applications - Adult and Child.
Please note that applications for renewal of Australian passports for minors (under the age of 16 years) and for adults (who are renewing their 10-year passports) can be mailed-in to the High Commission. For more information regarding mailed-in applications, please refer to https://india.highcommission.gov.au/ndli/Mailed_passport_applications.html
Notarial Services - including certification, land transfer/mortgage, apostilles and authentications, power of attorney, Affidavits/Oaths/Affirmations, Commonwealth and State/Territory Statutory Declarations, Notice of Intended Marriage, Certificate of No Impediment to Marriage.
Please ensure you book the correct appointment. Failure to book the correct appointment may result in your appointment being rescheduled to a later date.
Please email enquiries to [email protected] or phone the High Commission at +91-11-41399900.
We are unable to provide notarial services for visa and migration purposes.
How to book your appointment
To book appointments please visit here
Steps to book:
1. Select the services that you require.
2. You will automatically be forwarded to the next available appointment. You may select a date or time 1 month in advance, with an advance notice of 24 hours. First select the date on the calendar and then choose the time.
3. Enter your information. We require clients to provide their email address to enable the receipt of appointment reminder emails. We also request your phone number so that we can contact you if necessary.
4. Agree to our cancellation policy. If you need to cancel or reschedule your appointment, please refer to instructions below. Cancellations and modifications can be made with an advance notice of 24 hours.
5. Attend the High Commission at your designated booking time.
Cancelling or rescheduling your appointment
You will receive an appointment cancellation/modification link each time you book an appointment at the High Commission. The High Commission sends email notifications when an appointment is booked.
If you want to cancel an appointment, please click the "Cancel Appointment" link and you will receive a message on a new tab asking you to confirm cancellation.
If you want to modify an appointment, please click the "Reschedule" link. You will receive a message on a new tab allowing you to reschedule your appointment.
Passport services by mail
Renewing your passport? You can now submit your adult and child renewal application by mail. For more information on eligibility and how to lodge by mail please see: Mailed in passport application
You DO NOT require an appointment to come and collect your passport, however you are required to confirm with Consular Staff before coming to the High Commission. Passports can be collected from Monday to Friday between 9:00 am – 12:00 pm & 2:00 pm – 4:00 pm (excluding Public Holidays)
Consulate-General in Mumbai please click here
Australian Consulate-General in Chennai please click here
The following information should be read in conjunction with the information on the Australian Passport Office Website.
In certain circumstances, we can issue an emergency passport if you need to travel urgently and your existing passport has been stolen, damaged or lost.
Fees are payable in INR by Visa/ Mastercard Credit or Debit card. Fees are linked to the AUD/INR exchange rate and re-aligned monthly.
Current Passport fees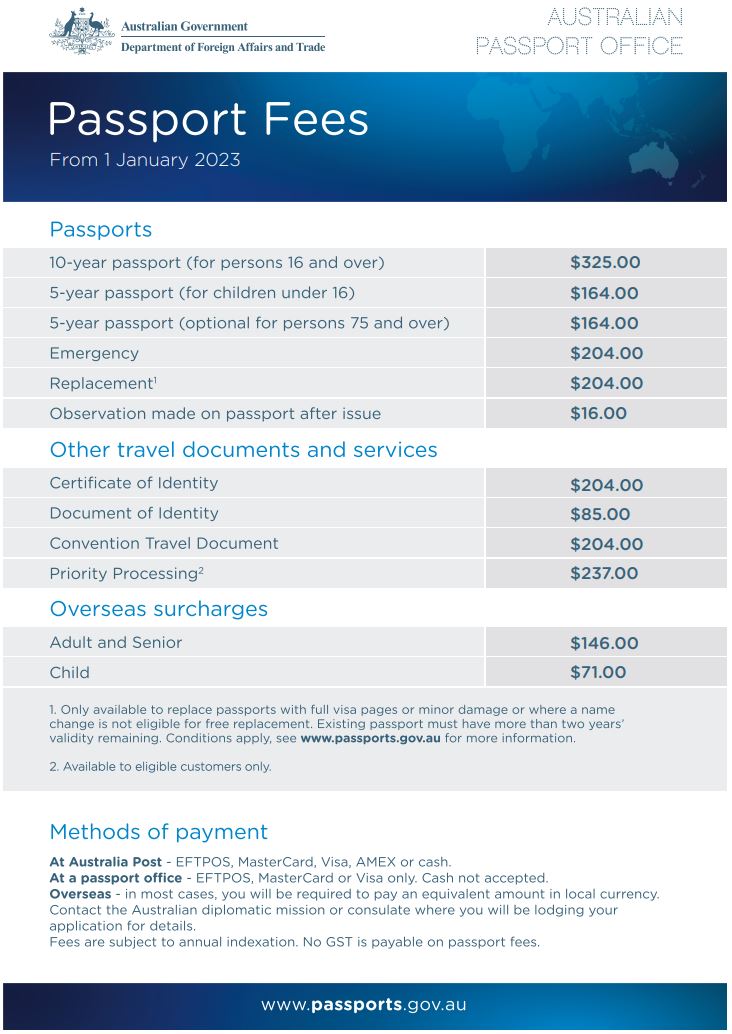 Guarantors must either:
Hold a current Australian passport issued for a minimum period of two years; or
Belong to specific occupational categories (or local equivalent)
Passport photographs must conform to specific requirements
Please also ask the photo shop to send you a soft copy of the photo so that it can be used in case the photos are not of accepted quality.
You should allow a minimum of six weeks to get a new passport or renew one. Missing documents will delay your application. A child passport without full parental consent takes much longer.
The priority processing service is not available in India.
If your passport has been lost or stolen you will need to report this to the Police authorities and provide a police report when you apply for a new Australian passport.
Witnesses to child consent must be present at the time each person with parental responsibility signs the application form. They cannot be related to the child or the person consenting in any way, nor live at the same address.
If your name has changed from what appears on your Australian Birth Certificate or Australian Citizenship Certificate you must provide evidence of your name change. Please read information in this link carefully.
We will only accept a foreign name change certificate if you were born overseas, live overseas and the name change happened overseas after you became an Australian citizen. The foreign name change certificate needs to be legalised. If it's not in English, it needs to be translated in full by an approved translation service.
Note: Original change of name documents issued by Indian authorities, must be apostilled by the Ministry of External Affairs.
Evidence of name change is also required when a parent's name on a child's birth certificate is different to their current name. This does not have to be legalised.
Privacy Policy
The Department of Foreign Affairs and Trade (DFAT) uses third-party software (Setmore) to manage the Embassy's appointments. Your personal information (including your name and contact details) will be collected by DFAT via Setmore to book your appointment and for related purposes. By proceeding with this booking, you are consenting to the collection of this information by Setmore on DFAT's behalf for these purposes. If this information is not collected, DFAT's ability to arrange your appointment will be limited. Your personal information will be handled by Setmore in accordance with Setmore's Privacy Policy, and by DFAT in accordance with DFAT's Privacy Policy.