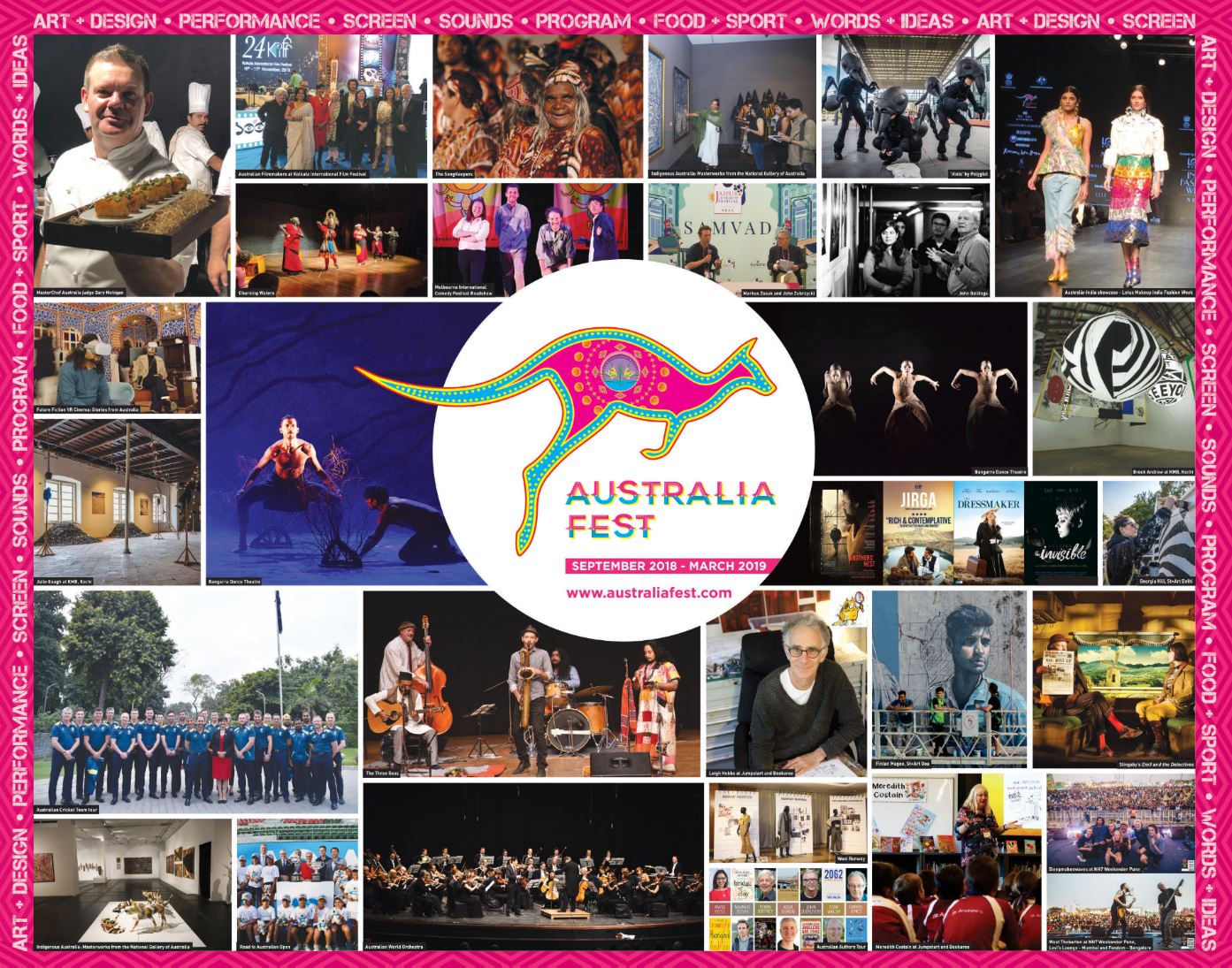 After a successful run across 20 Indian cities since September 2018, Australia Fest concluded with performances by internationally acclaimed Australian soprano and composer Deborah Cheetham in Mumbai and New Delhi. A leader in the Australian arts landscape for over 25 years, Deborah Cheetham shared her unique life story and the journey she has taken to discover her belonging. She presented Songs of Belonging featuring Australian and Indian performers - pianist Toni Lalich, tabla master Pandit Ashis Sengupta and the members of Rubiks Collective, one of Australia's most dynamic contemporary art music ensembles.
Australian High Commission hosts special evening for Australian cricket team
The High Commissioner hosted a special evening for Australian cricket team in New Delhi. The team also gifted High Commissioner Harinder Sidhu with a personalised team jersey.

Australia Fest has brought together science communicators and educators in a unique project that will bring to life an innovative exhibition on maths and computational thinking. The project was conceptualised by Dr Stuart Kohlhagen, Senior Fellow of Science and Learning at Questacon (Australia's National Science and Technology Centre), and presented in India in collaboration with the National Council of Science Museums (NCSM). It aims to extend the capacity of teachers in India to engage students in mathematics, problem solving and also in the area of computational thinking.
The final exhibit models will be displayed at the Birla Industrial & Technological Museum in Kolkata on 27 and 28 February as part of its National Science Day 2019 celebrations.

Fresh from a successful showcase in Ahmedabad, Monash Gallery of Art (MGA) travelling exhibition The History of the Built World is the first major survey exhibition of one of Australia's most celebrated architectural photographers, John Gollings' photographic practice spanning over 50 years.Various Indian architectural marvels - the Hawa Mahal in Jaipur, Hanuman Temple in Hampi, The Taj Mahal in Agra, Vittala Temple in Hampi and others – also feature in the exhibition alongside many of John's photographs from world over.
Presented in partnership with the Monash Gallery of Art, the exhibition will be open for public viewing at the India Habitat Centre as part of Habitat Photosphere from 19 February to 18 March 2019.
Some of Australia's most celebrated authors were in India as part of Australia Fest to inspire new audiences for Australian books and culture. The diverse line-up included: author of international bestseller The Book Thief Markus Zusak; Lifetime Ambassador of the Indigenous Literacy Foundation Anita Heiss; co-authors of Waste of a Nation: Garbage and Growth in India Robin Jeffery and Assa Doron; a leading expert in the field of artificial intelligence Toby Walsh; a former diplomat and foreign correspondent with three books on India to his credit John Zubrzycki; and an academic engaged in exploring the many ways that humans interact with nature Darryl Jones.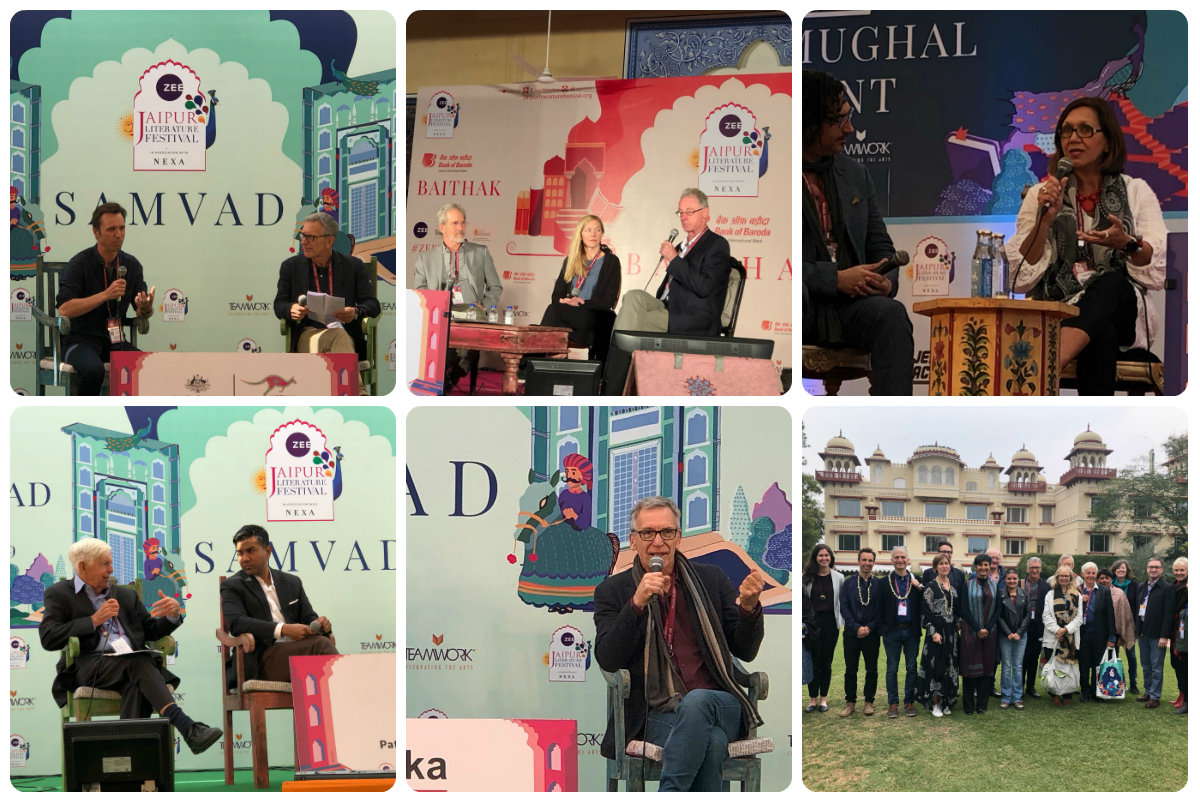 Australia's High Commissioner to India, Her Excellency Ms Harinder Sidhu, inaugurated a Monash Gallery of Art (MGA) travelling exhibition - John Gollings: the History of the Built World - in Ahmedabad. The History of the Built World is the first major survey exhibition of one of Australia's most celebrated architectural photographers, John Gollings' photographic practice spanning over 50 years.

Based on the 1929 detective novel written by Erich Kästner, Slingsby's Award-winning Australian play 'Emil and the Detectives' delighted audiences with their performances in Delhi and Mumbai. The play is adapted for the stage by Adelaide-based playwright Nicki Bloom. Slingsby also conducted workshops in Delhi and Jaipur, in collaboration with ThinkArts. The Mumbai workshops was presented in collaboration with Pomegranate Workshops.

Renowned Australian artists - Fintan Magee and Georgia Hill - will create murals in Goa and Delhi as part of the St+art Festival. Building on Australia's partnership with the St+Art India Foundation, two well-known Indian artists - Sajid Wajid Shaikh and Munir Bukhari - will take Indian street art to Melbourne as part of the Indian Summer Festival. They will collaborate with local Melbourne street artists to transform a shipping container park into a modern Indian art installation.

Two of Australia's most acclaimed Aboriginal artists - Julie Gough and Brook Andrew—will take part in the fourth edition of the Kochi-Muziris Biennale featuring 95 artists from 36 countries. Renowned contemporary Indian artist Anita Dube has curated this year's edition around the theme 'Possibilities for a Non-Alienated Life'. Australia's participation at the Kochi-Muziris Biennale is supported by the Australian Government through the Australia Council for the Arts. The biennale runs from 12 December 2018 to 29 March 2019.

Inter-cultural music ensemble, The Three Seas, set sail for a six-city tour of India as part of Australia Fest. The Three Seas combined traditional Baul music, originally performed by the mystics from West Bengal and Bangladesh, with contemporary Australian jazz, rock and western production aesthetics.
Award winning Australian Children Authors, Leigh Hobbs and Meredith Costain were in India as part of Australia Fest to share Australian stories at Bookaroo Festival of Children's Literature, Jumpstart and school workshops. The Australian Children Authors tour was supported by the Victorian Government through Creative Victoria.
Oz Haat Charity Mela at the Australian High Commission lawns
The Australian High Commission lawns welcomed over 3000 people at its annual Oz Haat charity mela. We were delighted to see happy winter shoppers and enthusiastic kids at Oz Haat Mela. Thank you for making it a big success again this year.
Polyglot Theatre, an interactive theatre group from Australia, showcased their play space production 'Ants' to delight children in Kolkata and Chennai. Faced with hundreds of giant breadcrumbs and three big insects, children were irresistibly drawn in to discover what the ants wanted them to do. The show was in India for the first time.

Indian audiences were in for a laugh riot as Australia's largest comedy festival, the Melbourne International Comedy Festival (MICF), performed in five India cities as part of their tour. Four Australian comedians - the relatable and hilarious Mel Buttle, the ideal Aussie comedian Daniel Connell, a stand-up comedian with a surreal take on the everyday Guy Montgomery, and an observational and often-absurd comedian Aaron Chen - left audiences in Mumbai, Pune, Kolkata, Delhi and Bengaluru in splits.

In the biggest ever showcase of Australian cinema in India, 27 Australian films are being screened aa part of the 24th Kolkata International Film Festival (KIFF). As the focus country at the festival, Australian films are being presented in three broad categories - 100 Years of Australian Cinema; Contemporary Section and Retrospective of Phillip Noyce. Our High Commissioner also inaugurated a poster exhibition to celebrate 100 years of both the Australian cinema and the West Bengal Cinema. The festival concludes on 17 November.

Australia's leading Aboriginal and Torres Strait Islander dance company, Bangarra Dance Theatre, embark on a multi-city tour of India this month as part of Australia Fest. They will stage Australia's Bangarra Dance Theatre delivered some spectacular performances across India as part of Australia Fest. They staged Spirit 2018 - a powerful collection of dance stories by Artistic Director Stephen Page, drawn from the company's 29-year history. During their India tour, the performers also conducted workshops with the tribes of India in Mizoram, Bengal's Purulia district and Madhya Pradesh.

Australian creativity and style took centre stage at the Lotus Make-Up India Fashion Week as part of Australia Fest. Five Australian designers- Romance was Born, We are Kindred, Brothers Earth, Cassandra Harper and Roopa Pemmaraju - showcased their collections created using Indian handlooms textiles. The showcase was presented in collaboration with the Ministry of Textiles, Government of India, and is an outcome of the MoU between the two countries signed at 'Textiles India 2017' in Gandhinagar.
For the first time ever, Tennis Australia has launched the Australian Open in India. As part of the launch they introduced the International Ballkids Program where ten kids will be selected to represent India at the Australian Open 2019. Australian Tennis legend Todd Woodbridge along with the Victorian Governor The Honourable Linda Dessau AC and other dignitaries launched the program in Delhi last week (Read More...)
The Australian World Orchestra wrapped up its India tour with spectacular performances in Kochi, Chennai and Mumbai leaving audiences asking for more. Here are a few glimpses.
Cooking sensation Gary Mehigan was in India as part of Australia Fest to share Australia's culinary culture. The celebrated Master Chef judge conducted a series of interactive food and beverage demonstrations, masterclasses and curated dinners in Delhi & Mumbai. Here are some highlights from his visit.
Australia Fest began on a magical note with the launch of the book 'Jadoowallahs, Jugglers and Jinns: A Magical History of India'. Written by renowned Australian author and Australia Fest ambassador, John Zubrzycki, the book is a cultural, social and political history of Indian street and stage magic. Casting their magic spells on the occasion were Australia's finest illusionist Adam Mada and Indian Magician Raj Kumar.
High Commissioner Harinder Sidhu, unveiled the program of Australia Fest – a festival that will bring the best of Australian culture and creativity to India. To be staged across 20 Indian cities, #AustraliaFest will feature music, art, food, film, literature, dance, theatre, sport and much more.
For updates on Australia Fest events, visit www.australiafest.com or follow us on our Social Media platforms - Facebook @AustraliainIndia | Instagram @aushcindia | Twitter @aushcindia and @ausdhcindia | YouTube Australia in India