The Australian Government will proceed with the Australian Marriage Law Postal Survey of all Australians on the Commonwealth Electoral Roll. Instructions on survey participation will be published on the Australian Bureau of Statistics (ABS) website.
Latest News
Direct Aid Program supports Early Childhood Education with NGO Shanti Sahyog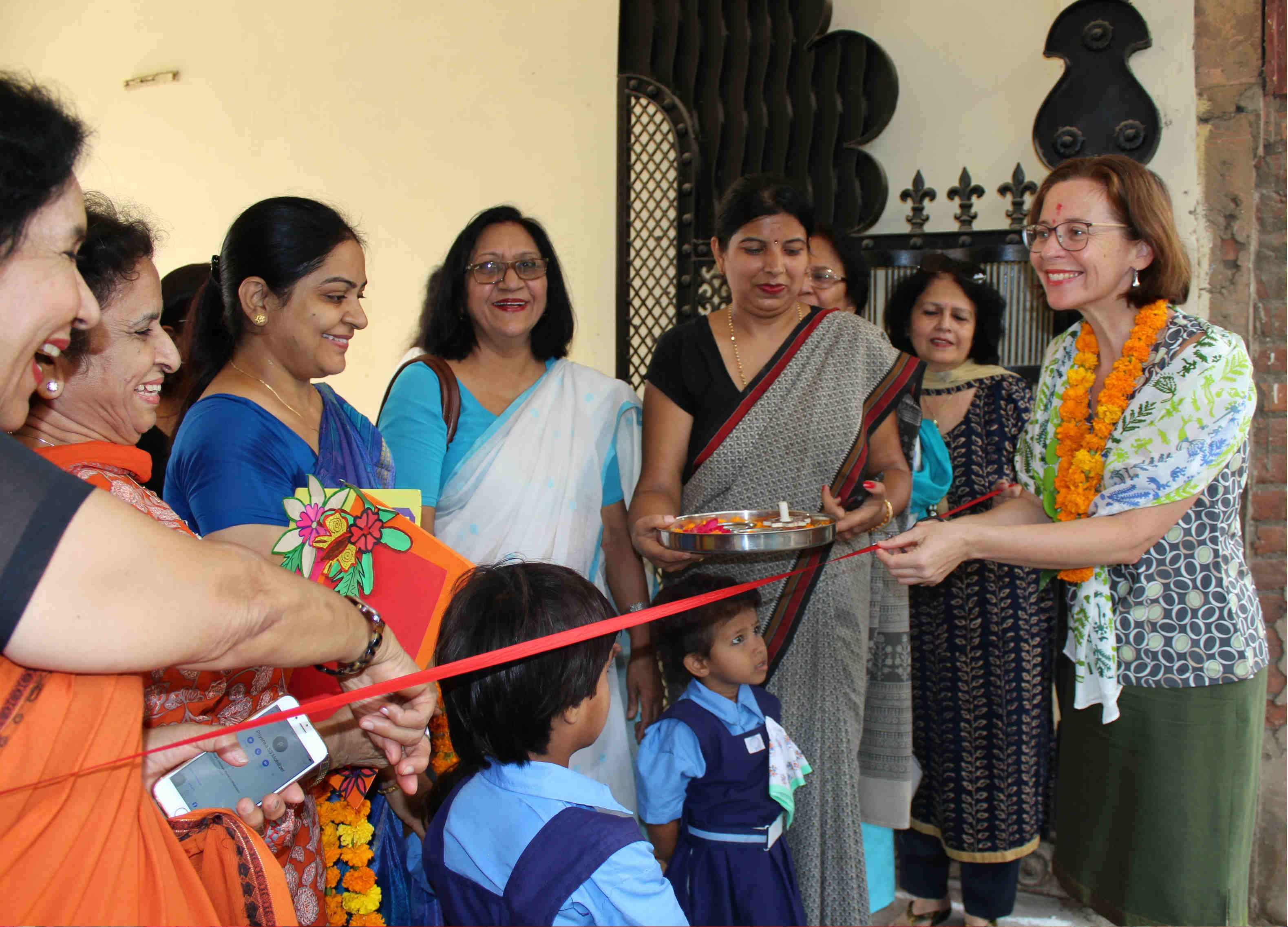 Reinforcing our commitment towards providing quality early childhood education, we support a pre-school centre in Tughlakabad village with NGO Shanti Sahyog through our Direct Aid Program.
Our Political Counsellor, Ms Jenny Grant-Curnow, recently visited the centre, and was pleased to see the enthusiasm of the children. She also met with the school management and had an insightful discussion about the prospects and challenges of pre-school education in India.
High Commissioner Harinder Sidhu hosts panel discussion to celebrate the work of architect Joseph Stein
One of the many important New Delhi buildings designed by architect Joseph Stein is the residence of the Australian High Commissioner.
To celebrate the work of the renowned architect, High Commissioner Harinder Sidhu hosted a panel discussion at the residence.
Among the panellists were some of Joseph Stein's closest associates—architects Ashok B. Lall, JK Jain, and Meena Mani. Guests included Professor David Lowe, Chair in Contemporary History, School of Humanities and Social Sciences at Deakin University.
Australian Trade Minister visits Asia's largest fruit and vegetable wholesale market, Azadpur

Australian Minister for Trade, Investment and Tourism, the Hon Steve Ciobo MP, visited the New Fruit Market, Azadpur to inspect the largest fruit wholesale market in Asia.
Australia currently exports counter season fresh fruit to India including citrus, apples, pears, stone fruits, table grapes, and cherries. Mr Ciobo is keen to see this trade grow and expand. Australia is also importing fruit from India and has recently increased the number of facilities accredited to export mangoes to Australia. In addition Australia has world-class technologies and services for the production, handling, storage, and marketing of fresh produce that has potential application in India to increase the efficiency of India's food value chains and reduce losses.
Australian Minister for Trade, Investment and Tourism, the Hon Steven Ciobo MP's speech at ABWI Gala dinner
"India is emerging as one of Australia's most important partners, in strategic terms but also in trade and investment, research and innovation.
Australia is enthusiastic about India's current trajectory. In particular, I welcome Prime Minister Modi's priority on improving the business environment. Growth and investment will be critical to meeting the demands of India's growing middle class — led by an increasingly skilled, educated and tech savvy youth. Australia stands ready to be a key partner of choice throughout this journey....."
Latest speeches by the High Commissioner
Latest Press Coverage